Travel Kyoto by the Sea and WIN cash!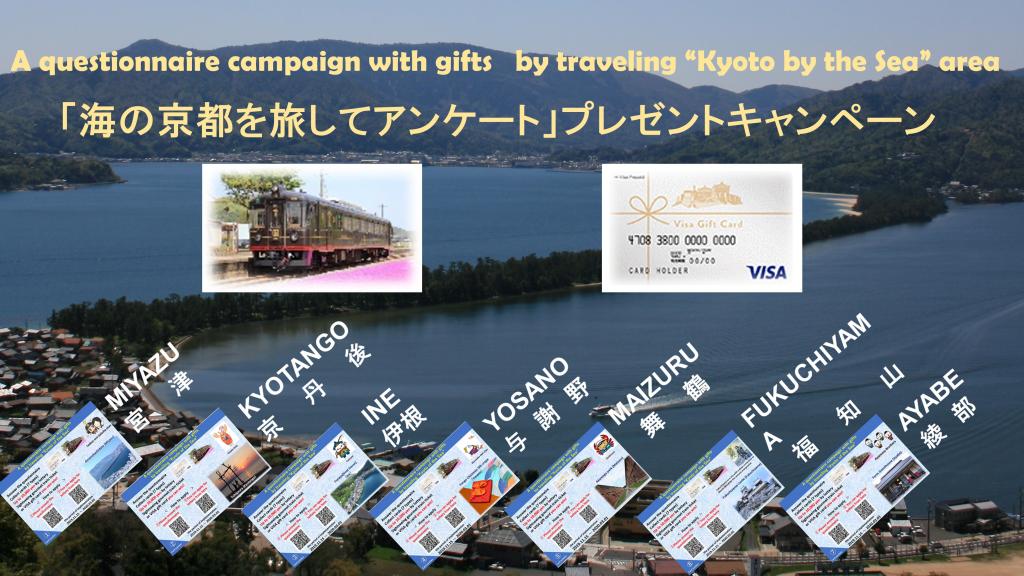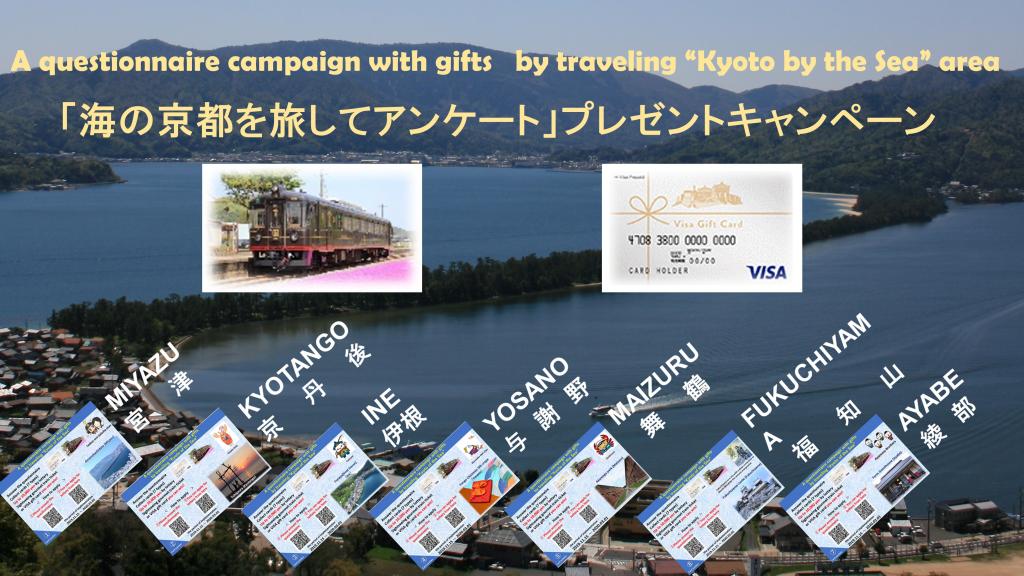 We are running a limited time campaign for people traveling around the Kyoto by the Sea area from November 15th - February 29th (2020).
In return for filling out a questionnaire, travelers have an opportunity to win VISA gift cards valued as high as 10,000 yen.
By answering questions, you are also helping us better promote the region. Your answers will help shape activities, services, etc. in the area; just a few minutes will aid us in making future visits even more amazing.
How to play:
Fill out the survey and collect cards (7 types representing the 7 cities and towns of Kyoto by the Sea). You have a chance to win up to a 10,000 yen gift card. Prize values vary and there will be many winners. Travelers who live in Japan may opt to win a multi-course lunch on the Kuromatsu Restaurant Train. 
Where to find cards:
You can get cards at Tourism Associations, roadside stations, Tango Railway stations, JR-Ayabe station ・Higashi-Maizuru station, Tango Kairiku Kotsu Headquarters・Mineyama bus stop, and other select locations in Kyoto by the Sea.
More details on winning:
① 4 people who collect all 7 types of cards can win a VISA gift card worth 10,000 yen or Kuromatsu Restaurant Train ticket
② 6 people who collect 4~6 types of cards can win a VISA gift card worth 5,000 yen
③ 20 people who collect 2~3 types of cards can win a VISA gift card worth 3,000 yen
④ 70 people who collect 1 card can win a VISA gift card worth 1,000 yen
Card Locations
MIYAZU CARD:
●Tantetsu Amanohashidate station・Amanohashidate Tourist Information Center:314-2 Monjyu Aza Miyazu
●Tantetsu Miyazu station:2065-4 Tsuruga, Miyazu  
●Tantetsu Kunda station:384-2 Aza Jyoushi, Miyazu  
●Tantetsu Tangoyura station:2048-2 Aza Yura, Miyazu  
●Amanohashidate Tourist Information:430 Aza Ogaki, Miyazu  
●Amanohashidate Tourism Association:314-2 Monjyu Aza Miyazu  Kyoto Tango Railway, Amanohashidate Station, Terminal Center  
●Miyazu Tourism Exchange Center:3007 Hama-cho Aza Miyazu  
●Amanohashidate View Land:437 Monjyu Aza Miyazu  
●Kasamatsu Park:75 Ogaki Aza Miyazu
●Tango-Uocchi-kan(Recreational facilities):1001 Aza Odashukuno, Miyazu
●Totomart:1775-25 Ryosi, Miyazu
●Amanohashidate Sightseeing Boat Amanohashidate Boat Dock:466 Monjyu Aza Miyazu
KYOTANGO CARD:
●Tantetsu Kyotango-Omiya station:380-2 Kuchiono, Omiya-cho, Kyotango
●Tantetsu Mineyana station:992-2 Sugitani, Mineyama-cho, Kyotango
●Tantetsu Amino station:119-2 Shimooka, Amino-cho, Kyotango
●Tantetsu Yuhigaura-Kitsuonsen station:71-1 Kizumoto Ueno, Amino-cho, Kyotango
●Tantetsu Shotenkyo station:220-2 Uraake Kumihama-cho, Kyotango
●Tantetsu Kumihama station:772 Sakae-cho, Kumihama-cho, Kyotango
●Tango Kairiku Kotsu Mineyama Information Center:990 Sugitani, Mineyama-cho, Kyotango
●Tango Kingdom "Shoku no Miyako":123 Tottori Yasaka-cho, Kyotango
●Tenki Tenki Tango:313-1 Takeno, Tango-cho, Kyotango
●Kumihama "SANKAIKAN":1709 Uraake Kumihama-cho, Kyotango
●Asamogawa Onsen "Shizuka no Sato":1449 Asamogawa, Amino-cho, Kyotango
●Yuhigaura Hot spring "Hanayuumi" :256-1 Hamazume, Amino-cho, Kyotango
●Ukawa Onsen Yoshino no Sato:1562 Kyuso, Tango-cho, Kyotango
●Kumihama Onsen Yumotokan:1106-4 Hirata Kumihama-cho, Kyotango
●Minato YU-YU:2102-1 Minatomiya, Kumihama-cho, Kyotango
●Gosho Inaba Honke :3102 Kumihama-cho, Kyotango
INE CARD:
●Funaya no Sato Ine:459 Aza Kameshima, Ine-cho, Yosa-gun
●Ine Tourist Information:491 Hirata Ine-cho Yosa-gun
●Funaya Biyori:593-1 Aza Hirata, Ine-cho, Yosa-gun
●Urashima-kan:111 -1 Aza Honjohama, Ine-cho, Yosa-gun
●Ine Bay Boat Tour Hide Boat Dock:11 Aza Hide, Ine-cho, Yosa-gun
YOSANO CARD:
●Tantetsu Yosano station :1332 Aza Shimoyamada, Yosano-cho, Yosa-gun
●Yosano Tourist Association:98 Taki Aza Yosano-cho, Yosa-gun
●Residence of the BITO family:1085 Aza Kaya, Yosano-cho, Yosa-gun
●Tango-chirimen Rekishikan(industrial heritage):315 Iwaya, Yosano-cho, Yosa-gun
●Tango Kairiku Kotsu Head Office:641 -1 Aza Kamiyamada, Yosano-cho, Yosa-gun
MAIZURU CARD:
●Tantetsu Nishimaizuru station:216-1 Aza Isatsu, Maizuru
●JR West Higashi-Maizuru station:5-3 Hamamachi, Maizuru
●Maizuru Port Tore Tore Center:905, Shimofukui, Maizuru
●Maizuru Repatriation Memorial Museum :1584 Taira, Maizuru
●Maizuru Tourist Information Station:213-8 Isatsu,Maizuru
●Maizuru Brick Park:1039-2 Aza Kitasui, Maizuru
●Higashi-Maizuru Station Tourist Information Center:647-1 Aza Hama, Maizuru( JR Higashi-Maizuru Station)
●Gorogatake Park:237 Aza Kamiyasu, Maizuru
FUKUCHIYAMA CARD:
●Tantetsu Oe station:409-2, Kawamori, Oe-cho, Fukuchiyama
●Tantetsu Fukuchiyama station :262 Aza Amata, Fukuchiyama
●Nosho no Sato Yakuno:2150 Hirano, Yakuno-cho, Fukuchiyama
●Fukuchiyama Tourist Information Center:439 Ekimae-cho, Fukuchiyama
●Fukuchiyama City Zoo:377-1 Aza Izaki, Fukuchiyama
●Fukuchiyama Castle Tenshukaku:5 Aza Naiki, Fukuchiyama
●Sato Taisei Memorial Art Museum:32-64 Aza Okano, Fukuchiyama
●The Japan Oni Exchange Museum :909 Bussho-ji Temple, Oe-cho, Fukuchiyama
AYABE CARD:
●JR West Ayabe station:7-1 Higashi-ishigatsubo, Yukidori, Ayabe
●Ayabe Tourist Information Center:11-4 Higashi-Ishigatsubo, Ekimae-Dori, Ayabe
●Ayabe Tokusankan (specialty products marketplace):1-2, Kamenashi, Aono-cho, Ayabe(Ayabe Gunze Square)
●Ayabe Onsen Nio-no-Yu:10 Zainomukai, Mutsuyori-cho, Ayabe
●Ayabe Fureai(community) Stock Farm:81 Hinomae, Idencho, Ayabe