Shaga Forest (Ayabe)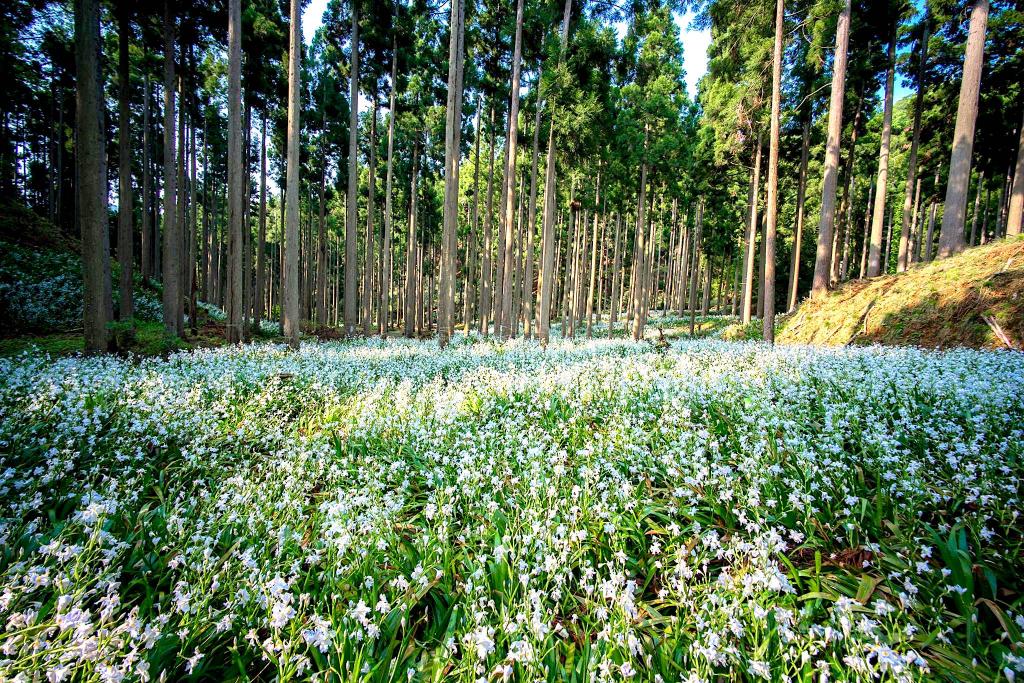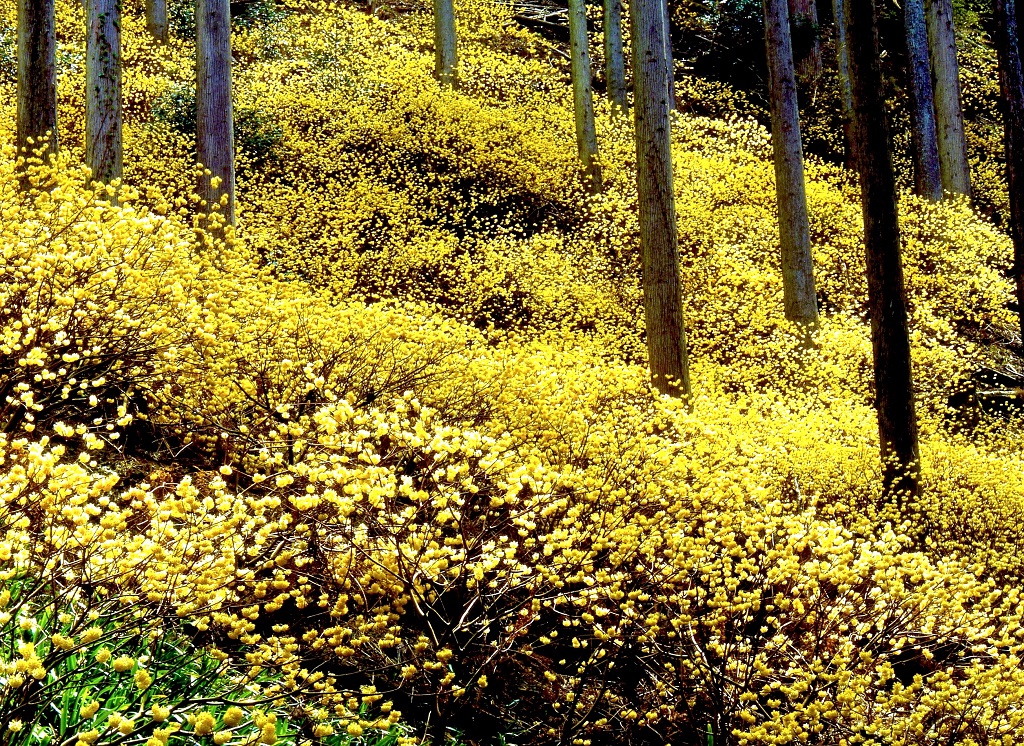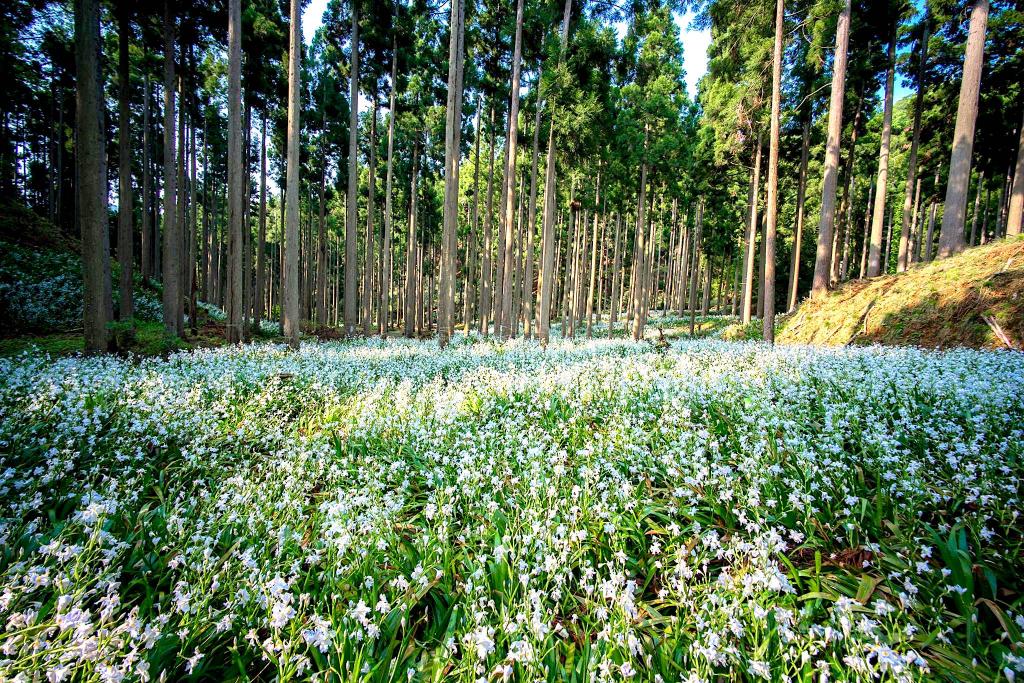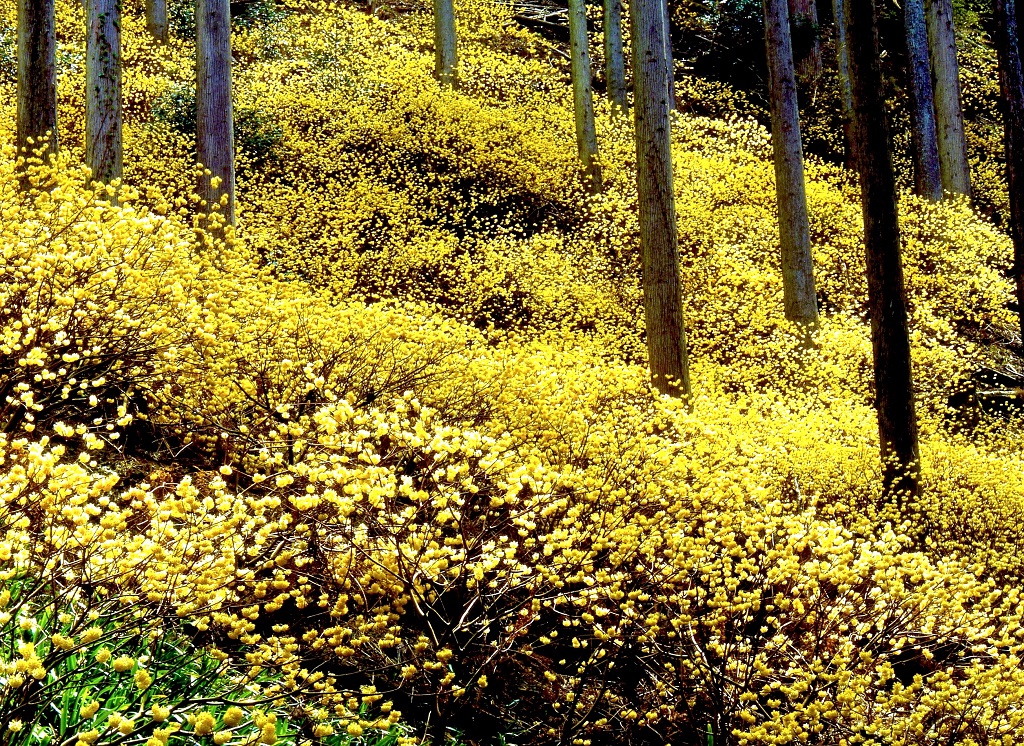 Kyoto by the Sea has many kinds of seas. And the Shaga Forest, from the end of March until mid-April, offers a spectacular yellow wave of oriental paper bush across the forest floor. And as soon as the color subsides, wild irises bloom in such profusion that the cedar forest appears to be wading through a foamy sea. Welcome to Kyoto by the Sea in the Forest.
One of the most amazing things about the nature of this forest, is that when walking through it, one has the distinct impression that the area has been manicured to contain such a profusion of only two types of flowering plants. But this couldn't be further from the truth. Just a few years ago, a resident of Ayabe discovered this natural marvel, and created easily walk-able paths through the sea of irises. Since its inception, visitors have come from far and wide to experience the mysterious cedar forest carpeted by irises and framed by an abundance of oriental paperbush.
A field of origami: late March to mid-April
The forest floor is bursting with, yellow origami snowballs? This is the spectacular flowering season of the oriental paper bush (mitumata in Japanese), a plant native to Asia that reveals its artistic in the earliest weeks of spring, flowing delicate blossom clusters resembling traditional Japanese washi paper.
Shaga Forest's wild irises: mid-april to early May
For those who find harmony in the color contrasts of nature, who have on one occasion or another had the urge to cover a forest floor in white lace to compliment the coniferous canopy above, the Shaga Forest offers a span of wild irises that is, to use an apropos cliché, breathtaking. The field, when in bloom, fills the vision and promises to appeal to even the most discerning of art critics, or your money back.

TEL: 0773-42-9550 (Ayabe City Tourism Association)
address: Ayabe-shi, Oitomi-cho, Zainaka
access: [car] at the intersection of Route 27 "Yamaga" and Route 1, take Route 1 towards the border of Fukui Prefecture.
cost: this mystical forest is free of charge (but they accept 300 yen donations through a drop-box)
note: blooming seasons are between late March and early May
※Keep in mind, flowers don't understand the meaning of our calendar months.